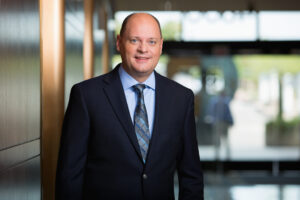 Kirk Reese serves as Chief Technololgy Officer for Docutech, a part of the First American family of companies, providing an end-to-end integrated digital mortgage experience that enables lenders to accelerate the real estate closing process.
Reese has served as Docutech's CTO for nearly a decade, first joining the company from 2004-2008 as president and CTO, then returning in 2012 after a brief stint at another company. As CTO, Reese is a technology leader who combines vision and execution to deliver scalable solutions to challenging problems, driving the company's technological vision with a focus on innovation and growth. Reese is a dependable leader who challenges everyone to take ownership, try new ideas, and constantly learn and improve. He always has a positive attitude and encourages his teams to do the same. He also believes that the journey is as important as the destination.
Reese has a master's degree in applied mathematics from University of Maryland Baltimore County as well as a bachelor's degree in mathematics and statistics from Brigham Young University.